Bologna Italy Children's Book Fair Illustrators Exhibition 2019
From Dec. 14th, 2019 (Sat.) to Jan. 19th, 2020 (Sun.)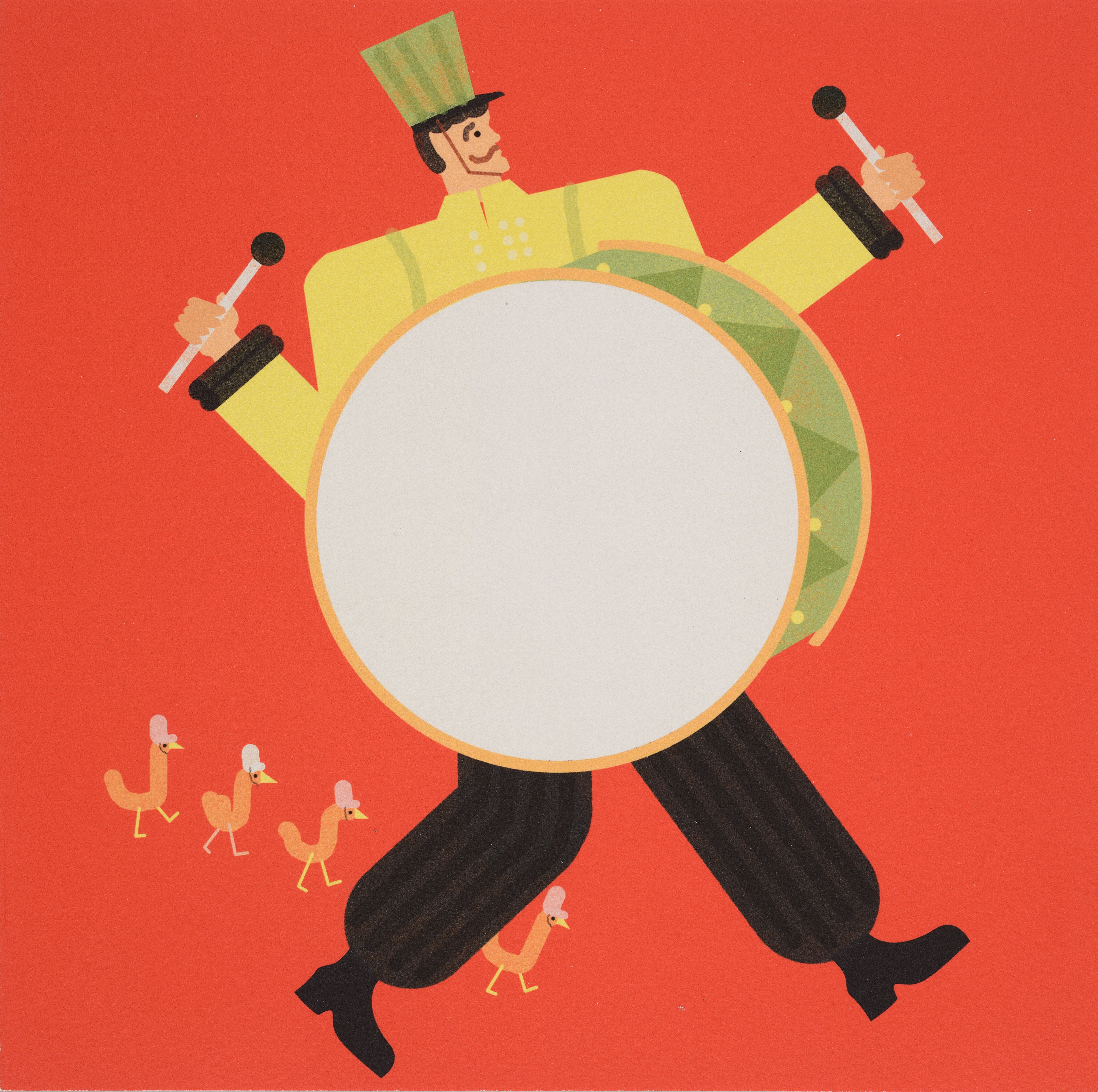 Gaia Stella (Italy) "The Grand Orchestra!"
Information
Name: Bologna Italy Children's Book Fair Illustrators Exhibition 2019
Period: From Dec. 14th, 2019 (Sat.) to Jan. 19th, 2020 (Sun.) / 27 days
Closed: Mondays (Open on national holiday, January 13th, and closed on the following Tuesday) and year-end and new year holidays (from December 29 to January 3)
Venue: ART MUSEUM & LIBRARY, OTA, Exhibition Rooms 1, 2, 3 and slope
Organizers: Ota City, Ota- Shi Cultural and Sports Promotion Foundation, Japanese Board on Books for Young People (JBBY)
Sponsored: SUBARU Corporation
With the cooperation of:Tobu Railway Co. Ltd., Bologna Children's Book Fair
Bologna Illustrators Exhibition, curated by Bologna Children's Book Fair / BolognaFiere in partnership with JBBY
Supporters: Ota City Board of Education, Ota Chamber of Commerce and Industry, Gunma Television Co., Ltd., FM Taro, FM Gunma Broadcasting Co. Ltd., NHK Maebashi Station, Jomo Shinbun Co. Ltd., Yomiuri Shimbun Maebashi Branch Office, Mainichi Newspapers (Co. Ltd.) Maebashi Branch Office, Sankei Shimbun (Co. Ltd.) Maebashi Branch Office, Tokyo Shimbun Maebashi Branch Office, Asahi Shimbun Company Maebashi Main Office, Hikari Net Co.
Admission Fees: General adult 500 (*400) yen
※Fee in brackets above is for groups 20 people or over, or holders of any of the followings; ART MUSEUM & LIBRARY, OTA cards, "Fratto Ryomo Tobu Free Pass"
※Free for people ages 65 or over, high school age or younger, and holders of physical disability certificate, mental disability certificate or rehabilitative childcare record book, and one attendant each for them (certificate required)
※On Ota Family day, first Sunday of the month (on January 5th), free for families accompanying children junior high school age or under
※100 yen discount at the café and shop if you show the exhibition's ticket stubs (One purchase per ticket, during the exhibition period) Please check the eligible products.
Overview
The world leading children's books' trade fair, Bologna Children's Book Fair, is an international conference that takes place every spring in the historic city of Bologna, Italy. Publishers, authors, translators and people from areas in children's books from around the world gather at the fair to engage in lively discussions and exchange ideas actively. After the fair, the international picture books' Illustrators Exhibition ("The Illustrators Exhibition") is held annually. The entry requirement is a set of five illustrations drawn for children and it is open to anyone, regardless of career or experiences. This is a gateway to new illustrators and 76 illustrators from 27 countries, including Japan, were selected among 2901 entries from 62 countries in 2019.
The Bologna Italy Children's Book Fair Illustrators Exhibition 2019 is a traveling exhibition of selected works from the winners that are displayed around the nation. It is the first time that this exhibition is held in the this facility which is an art museum as well as a library where collecting picture books and children's literacy around the world.
For the special exhibition, original pictures of the 2018's Fundación SM International Award for Illustration winning picture book, "La casa de fieras (The Beast House)," by Vendi Vernić, and creation and process of Masha Titova, the year's main image "visual identity" are displayed.
Furthermore, books that won BolognaRagazzi Awards for outstanding children's books are available for you to read. Please enjoy and experience this exhibition that takes you to the world's inspiration and innovation of "Ima (the moment)" through the displays.
*Fundación SM International Award for Illustration:the winner is selected from aged 35 or under among winner of the Illustrators Exhibition, and the winner is given the opportunity to have their picture book published by the Spanish publisher SM.
Display Highlights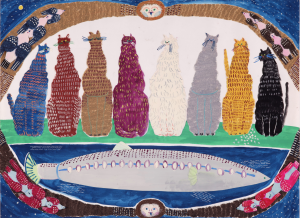 Chitose Chitose (Japan) "Feast"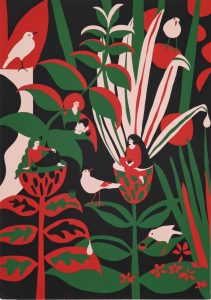 Maria Cecilia Rodriguez Oddone (Uruguay) "Hornero"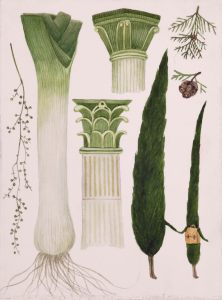 Feridun Oral (Turkey) "Is it as it looks?"