Ota Art vol.3 "Sazaedo 2020–Modern spiral and a hundred paintings"
From Feb. 6th 2020 (Thu.) to May 10th 2020 (Sun.)
Sazaedo——a spiral structure Buddhist temple. Those unique structured temples were built in the northern part of the Kanto region in the late Edo era, and one of the few preserved now is in Ota City, Gunma Prefecture.
Experience the echoes and reflections of the old Sazaedo style in this modern Sazaedo by the paintings, audio + images, installation!
Information
Event Name: Ota Art vol.3 "Sazaedo 2020——Modern Spiral and 100 paintings"
Period: Feb. 6, 2020 (Thu) to May 10, 2020 (Sun) / 82 days
Venue: ART MUSEUM & LIBRARY, OTA, Exhibition Room 1, 2, 3, Slope, etc.
Open: 10:00 am to 6:00 pm (last admission to the exhibition room – 5:30 pm)
Closed: Mondays (Open on national holidays / February 24 and May 4, and closed on February 25 and May 7)
Admission fees: General adult 300(*200) yen 
*Fee in brackets above is for groups over 20 people, or holders of any of the followings; ART MUSEUM & LIBRARY, OTA cards, "Fratto Ryomo Tobu Free Pass," or ticket stubs from Okawa Museum of Art (Kiryu City) tickets holders during the exhibition period. Free for people ages 65 or over, high school age or younger, and holders of physical disability certificate, mental disability certificate or rehabilitative childcare record book, and one attendant each for them, and on Ota Family day (first Sunday of the month) free for families accompanying children ages 15 or under on Ota Family Day
Organizers: Ota City, and Ota-Shi Cultural and Sports Promotion Foundation
Subsidiary of: The Mitsubishi UFJ Trust Cultural Foundation, Nomura Foundation
Special Support: Sogenji Sazaedo
Technical Support: AI LABO OTA, SANT.ELMO CO.LTD
With the cooperation of: Tobu Railway Co. Ltd.
Supporters: Ota City Board of Education, Ota Chamber of Commerce and Industry, Gunma Television Co., Ltd., FM Gunma Broadcasting Co., Ltd., FM Taro, Jomo Shinbun Co. Ltd., Asahi Shimbun Company Maebashi Main Office, Sankei Shimbun (Co., Ltd.), Maebashi Branch Office, Tokyo Shimbun Maebashi Branch Office, Mainichi Newspapers (Co., Ltd.), Maebashi Branch Office, Yomiuri Shimbun Maebashi Branch Office, Hikari Net Co.
Overview
Have you heard of Sazaedo? It is a spiral building which is placed a hundred Kannon in three-tiered space to achieve a simplified religious action, the "Hundred Kannon Pilgrimage," making a pilgrimage to a hundred sacred sites in Kannon circuit which is said to have been carried out since the Heian period, by enshrining a total of a hundred Kannon statues in three locations (Chichibu, Bando and Saikoku). The unique point is, as its name suggests, the one-way corridor which does not allow the ascent and descent to merge. Visitors are invited to pray to the statue of the Kannon, Goddness of Mercy, as they walk around the turban shell shaped "spiral" space.
There are two spiral-shaped structures in Ota City, Gunma Prefecture. One is the "Sogenji Sazaedo," which was built in 1798. The other is also consisting of three levels, a complex of art museum and library, the "Art Museum and Library, Ota," which opened in the spring of 2017. (Designed by Akihisa Hirata)
The exhibition "The Sazaedo 2020- Modern spiral and 100 paintings" is to take opportunity / cerebrate the temple to be nationally designated important cultural property in the modern version of Sazaedo, and feature works by Shuta Hasunuma (musician / artist, born in 1983), Natsunosuke Mise (Japanese style painter, born in 1973) and Atsuko Mochida (artist, born in 1989). Those three artists approach "Sazaedo" and "Spiral" in their ways using different methods of expression and Daisuke Takahashi (painter, born in 1980) displayed their arts on each floor in the same way as the "100 Kannon pilgrimage" and gives new values and possibilities of Sazaedo's structure and meaning.
As the French scholar, Tatsuhiko Shibusawa, once said about spirals, "The spiral is an expression of the vitality of the human spirit that is constantly being renewed." (On Spirals, "The World in the Walnut," 1974). We hope that the experience of viewing each work being physically in a spiral space, going from the bottom to the top and back to the bottom again, will invigorate your body and spirit and lead to the acquisition of new perceptions.
Enjoy the pilgrimage to the museum.
Artists
Daisuke Takahashi, Shuta Hasunuma, Natsunosuke Mise and Atsuko Mochida (four artists)
Graphic
Atsushi Hirano
Exhibition composition / Two highlights
1.
Three artists (Natsunosuke Mise, Shuta Hasunuma and Atsuko Mochida) exhibit works based on the themes of "Sazaedo" and "Spiral" from Sazaedo's spiral structure.
Mise Natsunosuke (1st Floor, exhibition room 1)
Traditional Japanese painter, Natsunosuke Mise, creates spiral space by his old and new paintings in the 6-meter-high exhibition room. There are paintings by an artist, Daisuke Takahashi, on the wall, and you can see the collaborations of two different mediums, Japanese paintings and oil paintings.
Reference works (different from the exhibited works)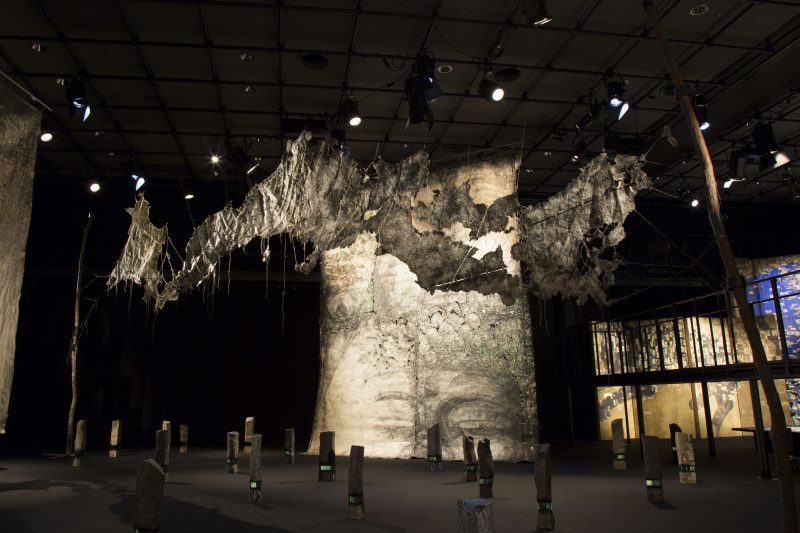 Natsunosuke Mise<Paint in Japan>(2016) and <My God>(2013)
"Poetic Forest – A Space to to be talked about and deceived" (KAAT Kanagawa Arts Theater,2017)
Photo: Nishino Masanobu
Shuta Hasunuma (Slope, between exhibition room 1 and 2)
Musician and artist Shuta Hasunuma exhibits his latest works of the field work / field recording works, Walking Score, which was collected by rolling a microphone on grounds while he was walking around two places, this museum and Sazaedo. This series of his latest work recorded and edited in the places harmonize in one space.
Reference works (different from the exhibited works)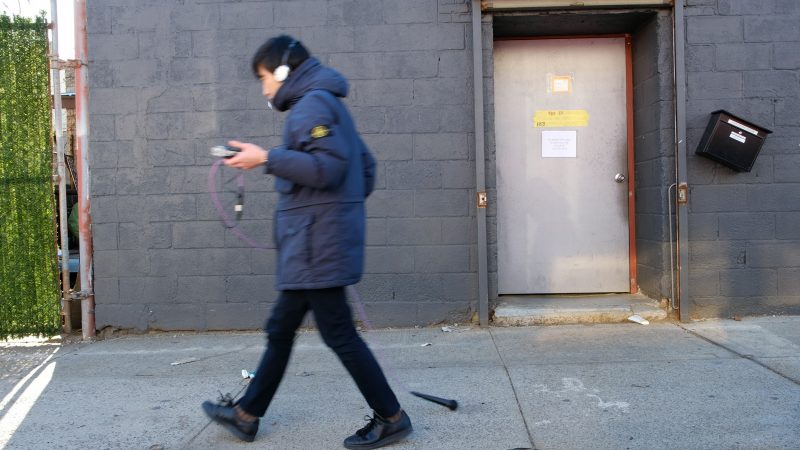 Shuta Hasunuma<Walking Score in New York>
(Single Channel Video, Microphone, Cable, 22 mins 29 sec., 2018) Photo: Yuichi Uchida
Atsuko Mochida (2nd Floor, exhibition room 2)
Atsuko Mochida exhibits her new installation that rotates around the museum's exhibition room. Even more, she displays paintings by Daisuke Takahashi on the installation in this exhibition.
Reference works (different from the exhibited works)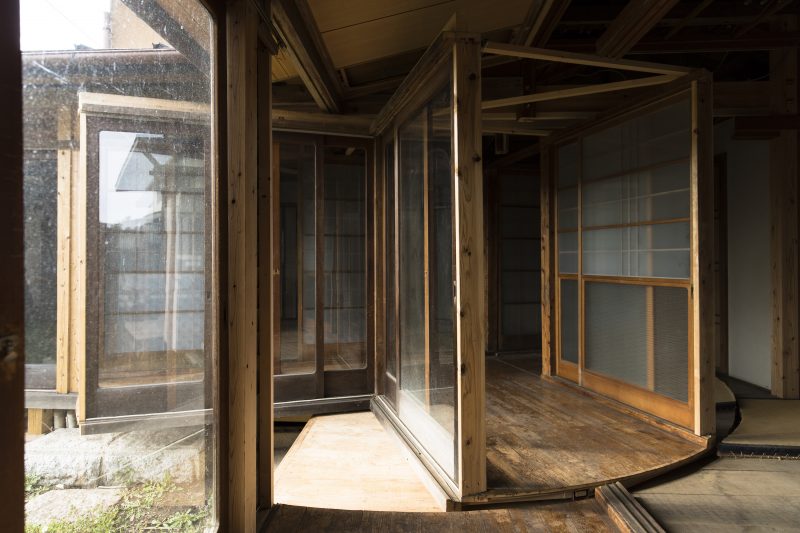 Atsuko Mochida <Rotation at T's house> (2017) Photo: Ryuichi Taniura

2.

In line with the "Hundred Kannon Pilgrimage" at Sazaedo, painter Daisuke Takahashi will exhibit a total of a hundred paintings; 34 on the first floor, 33 on the second floor and 33 on the third floor.
Daisuke Takahashi (1st to 3rd Floor, exhibition room 1 to 3)
Daisuke Takahashi, exhibits a total of 100 (mainly unpublished) recent oil paintings. He collaborates with Natsunosuke Mise in the exhibition room 1 (1F) and with Atsuko Mochida in the exhibition room 2 (2F). In the exhibition room 3 (3F), the space is made up solely with Takahashi's work.
Reference work (different from the exhibited works)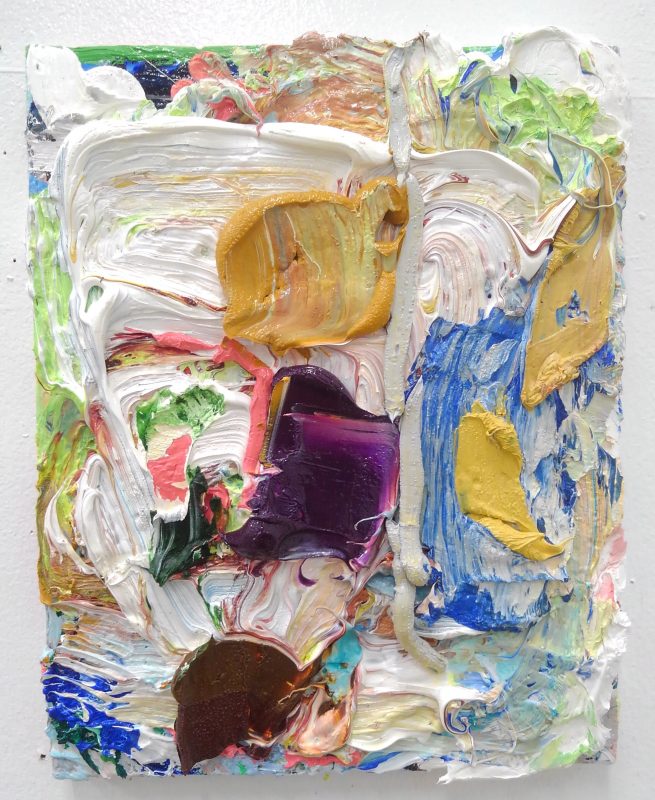 Daisuke Takahashi <No Title (s.r)>(2017 to 2019, oil on canvas, 28.5×22cm)
Daisuke Takahashi <No Title (J,C,G,M)>(2018 to 2019, oil on canvas, 53.5×65.6cm)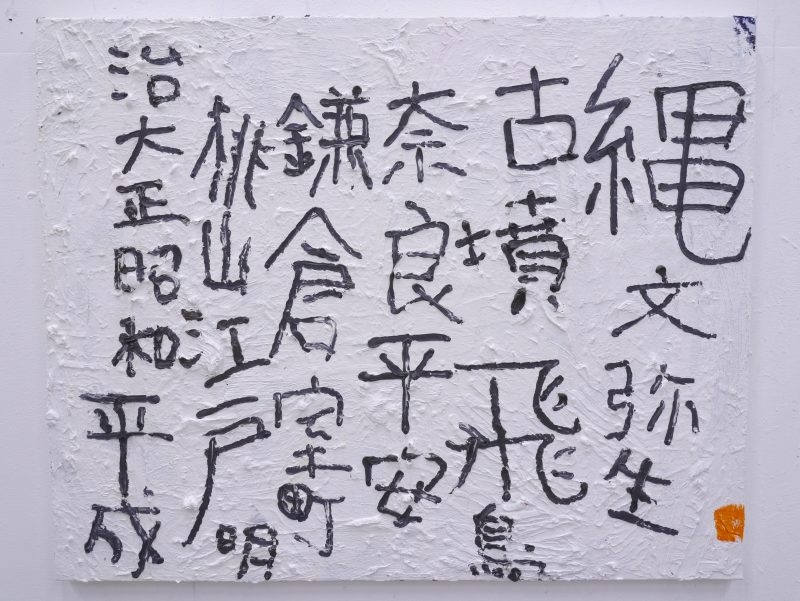 Daisuke Takahashi <Daydream #2 (Orange)>(2019, oil on canvas, 73.7×91.4cm)
 Artists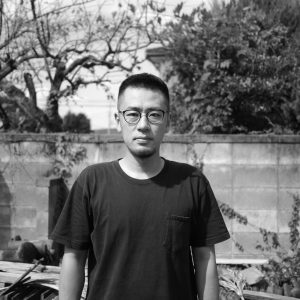 Daisuke Takahashi, Painter
Born in Koshigaya City, Saitama Prefecture in 1980. Lives and works in Ogawamachi, Hikigun. Graduated with a degree in painting in Department of Fine Arts at Tokyo Zokei University in 2005.
He is known for his thickly painted works that go beyond the usual concept of oil painting. He uses oil paints for all his works and he has a unique method of creating them without any prediction of their completion.
Over 70 of his new sensational installations were shown at the special exhibition "The Emerging Body" at the Museum of Mordern Art, Saitama Prefecture. In recent years, he has been creating a variety of works, not only Western paintings, but also Japanese-Western paintings, Japanese paintings and calligraphy.
Major exhibitions: "The Way of PAINTING," Tokyo Opera City Gallery (2014), "Painting Today – from the two-dimensional works of four artists," Kawagoe City Museum of Art (2015), "NEW VISION SAITAMA The Emerging Body," the Museum of Modern Art, Saitama Prefecture (2016), "Sleeping Paintings" URANO, viewing space, (2018) "Self-portrait," Art Center Ongoing (2018), among others. Currently a part-time lecturer at Tokyo Zokei University.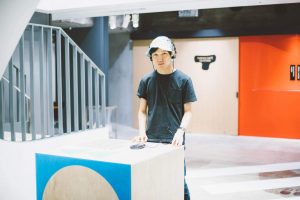 Photo: Takehiro Goto
Shuta Hasunuma, Musician and Artist
Born in Tokyo, in 1983. Organizing Shuta Hasunuma Philharmonic Orchestra to perform concerts in various places, as well as composing music for stages, dances, movies, etc. He offers a wide range of production activities from sound work to music production, focusing on environmental and electronic sounds. In recent years, he has applied his compositional techniques to a variety of media, including video, sound, three-dimensional and installations. He is actively engaged in exhibitions and projects for those both in Japan and overseas. Recent releases includes the solo EP "Oa" (Northern Spy Record, New York / 2019), and the album ANTHROPOCENE (Hasunuma Shuta Philharmonic Orchestra / 2018). He also organizes the concert series "Music Today," which is planned and organized by himself. As for the main solo exhibition, he has held a solo exhibition in Beijing as a Cultural Envoy for East Asian Cultures, the Agency for Cultural Affairs. He exhibited "The compositions" (Beijing Culture and Art Center, Beijing / 2017) and his first solo exhibition in the United States, "Compositions" (Pioneer Works, New York / 2018) and "~ing" (Shiseido Gallery, Tokyo) (Tokyo / 2018) in the following year, a one-day exhibition of Someone's Public and private / Something's public and private" (Tompkins Square Park, New York / 2019). He was awarded the 69th New Face Award of Minister of Education, Culture, Sports, Science and Technology.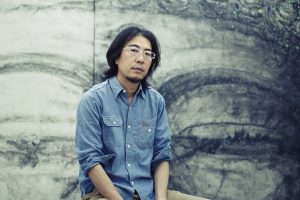 Natsunosuke Mise, Japanese painter
Born in Nara Prefecture in 1973. Earning an M. A. in painting at Division of Art from Department of Art at Kyoto City University of Arts in 1999. His astounding ability to express himself by using a wide variety of motifs, materials and sometimes collage works that are not limited by the existing Japanese traditional paintings has earned high praise. He has received "Hoshino Shingo Prize, the Triennial Competition in Toyohashi" (2002), the "Gotoh Memorial Foundation Cultural Award for new artists" (2006), the 16th "VOCA prize" (2009), and many more. He has had solo exhibition such as "Painting of Japan Mise Natsunosuke solo Exhibition" at Hiratsuka Museum of Art (2013)," "Mise Natsunosuke – Ametsuchi no Ki" at Hamamatsu City Akio Fuku Museum (2014)," "Painting of Japan – basso ostinato – at Kyoto City Museum of Art Annex (2015)," "Mise Natsunosuke – inspiration from Gyokudo for Special Opening of Yurinsou in autumn of Heisei 30 at Yurinsou in Ohara Museum of Art (2018)" and many other solo exhibitions and group exhibitions. He broadens the scope of his activities and joined an exhibition that interweaves art with folk and natural history contents "100 stories – like a mountain" for Yamagata Biennale 2018 as a curator. He has been the professor of art in the Department of Art at Tohoku University of Art & Design.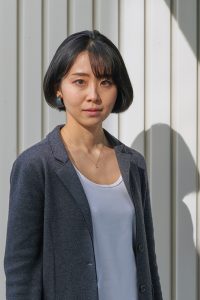 photo:Pezhman Zahed
Atsuko Mochida, Artist
Born in Tokyo in 1989. Earing an M.A. in Inter-media Art at Tokyo University of the Arts and finishes Public Art and New Artistic Strategies at Bauhaus-Universität Weimar in 2018. Had a training in Germany and Singapore as a Fiscal Year Heisei 30th oversea trainee of the Pola Art Foundation from 2018 to 2019. She specializes in transforming the meaning and quality of space by inserting temporary and foreign elements, such as walls and stairs, into existing spaces and buildings in order to create a flickering boundary between the private and public.
She has residence in Japan and overseas and has created numerous arts, including in Hokkaido, Berlin (Germany), Havana (Cuba), Singapore, Leipzig (Germany), and Ajishima.


Recent major exhibitions: "Going Away Closer – Japan and Cuba Contemporary Art Exhibition" (Havana, 2018) and "Reborn – Art Festival 2019" (Miyagi Prefecture, 2019)
Graphic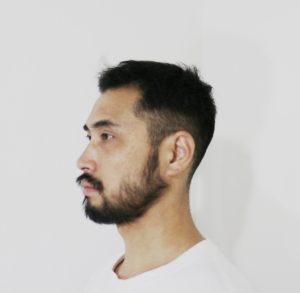 Atsushi Hirano
Born in Kanagawa in 1978. Graduated with a degree in Graphic Design in Faculty of Art and Design at Tama Art University in 2003. Established Design Studio AFFORDANCE after worked at MAQ inc. and DRAFT Inc.
His main work are based on graphic design, including corporate branding, CI, VI, product design, editorial design and logo design. He designed the logo and signage for opening of the Art Museum & Library, Ota (Designed by Akihisa Hirata). Currently a part time lecturer at Tama Art University.


Major awards: TDC Award, JAGDA Newcomer's Award, SDA Award, Minister of Economy, Trade and Industry Award.