Books and Arts Exhibition vol.3: Sato Naoki Exhibition: Circulating Pages and Murals
From Jun. 29, 2019 (Sat) to Oct. 20, 2019 (Sun)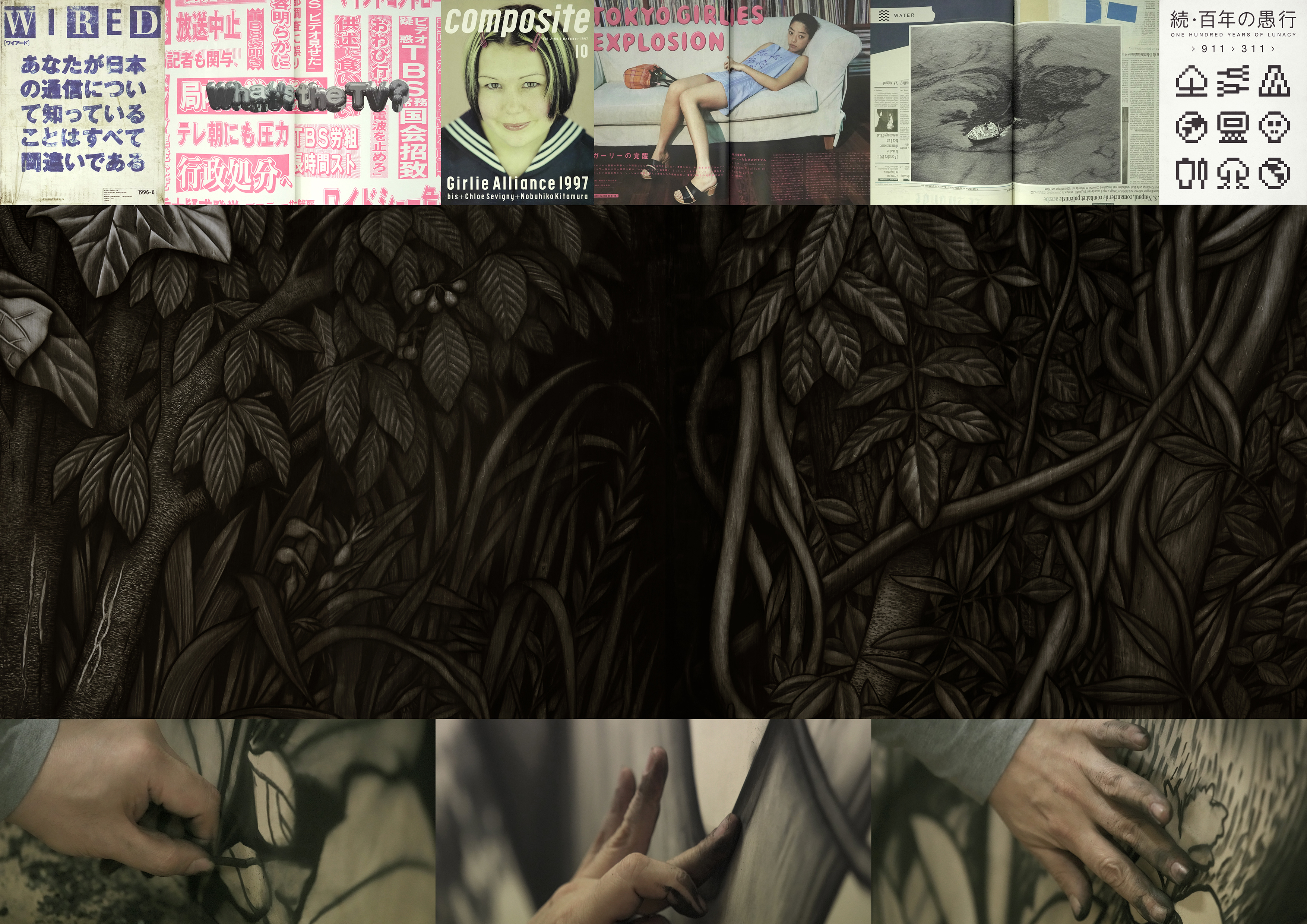 The consequences of a 160m long picture that "does not aim to be completed"
Information
Event name: Books and Arts Exhibition vol.3: Sato Naoki Exhibition: Circulating Pages and Murals
Venue: ART MUSEUM & LIBRARY, OTA, Exhibition Rooms 1, 2, 3, and Slope
Period: Jun. 29, 2019 (Sat) to Oct. 20, 2019 (Sun)
Open: 10:00 am to 6:00 pm (last entry to exhibition rooms before 5:30 pm)
Closed: Mondays (Open on July 15, August 12, September 16 & 23 and October 14 national holidays, and closed the following Tuesdays)
Admission fees: General adult: 500 (400) yen. *Fees in brackets (400) are for groups over 20 people, ART MUSEUM & LIBRARY, OTA card holders or "Furatto Ryomo Tobu Free Pass"holders. Free for people over 65, high school age or younger students, and holders of physical disability certificate or mental impairment welfare insurance certificate, or rehabilitation certificate and one attendant. Free for families accompanying children under 15 on Ota Family Day (first Sunday of every month).
Organized by: Ota City, Ota City Culture and Sports Promotion Foundation
Supported by: 3331 Arts Chiyoda, command N, Tobu Railway, (NPO) Bigakko
Sponsored by: The Asahi Shimbun Foundation, The Kao Foundation for Arts and Sciences
Sponsored by: Ota City Board of Education, Ota Chamber of Commerce and Industry, Gunma TV, FM Gunma, FM Taro, Jomo News, Asahi News Maebashi, Sankei News Maebashi, Tokyo News Maebashi, Hikari Net Co., Ltd., Mainichi News Maebashi, Yomiuri News Maebashi
Exhibition trailer
Overview
From painting to design, and from design to painting. Naoki Sato (born in Tokyo, 1961) joined a publishing company in 1989 after seeing a part-time job recruitment poster at the art school he had attended until the previous year and thus started his career as a designer and art director. Reflecting on his past work, he says, "It began with the trend of the times."
For example, it first started with using a PC for the layout and design work of printed materials (desktop publishing = DTP), which is now common, but which was spreading from the West to Japan around 1990 when Sato began to work. At the beginning of a new era of printing technology, Sato enthusiastically learned DTP technology and worked on a number of editorial designs focusing completely on the type of media, whether magazines or other paper-based media. As globalization progressed in the 2000s, he published a graphic magazine meant for global distribution, and as an extension of that, planned and held events combining art, design, and architecture in vacant buildings in Tokyo.
The wide range of his work is difficult to express by the designer and art director label alone. In the 2010s before the Great East Japan Earthquake, he began to put more and more efforts into drawing paintings after realizing that his "body reacted to the hint of a certain place he had never paid much attention to before". In 2013 he begins work on the charcoal mural "What grows over there." The monochrome painting of mostly plants drawn on wooden panels with charcoal is now over 160 meters long and expected to continue to expand with no completion date in mind.
 When considering various genres in art, this can be viewed as a transformation from designer to painter. But what if this transformation was inevitable, as Sato himself believes and triggered by the times, the environment and circumstances he lived in? In other words, design ("paper") and painting ("murals") are different means of expression resulting from his attitude of giving it all in any situation. Then these means of expression just repeat in "cycles".
In this third installment of the Books and Arts Exhibition held at our museum and library complex, we display some of Sato's new designs and paintings created visiting here especially for this event. This is also the first time his two types of works are shown side by side. In other words, it is but an exhibition of "books" and "art" by someone named Naoki Sato, but is this genre distinction effective in the first place? Through his work, Sato asks, "Aren't books and art born from the same source?" and "What would you see if you dove to the deepest part?" This is an opportunity for all visitors to contemplate such questions.
Featured artists
Naoki Sato
Born in Tokyo in 1961. After graduating from Hokkaido University of Education, studied Sociology of Education and Linguistics at Shinshu University. Completed Mokuma Kikuhata Painting School at Bigakko. In 1994, became the art director for the launch of WIRED in Japan. In 1998, established Asyl Design (currently, Asyl). In 2010, participated in the launch of the "3331 Arts Chiyoda" Arts Center. Using the "TRANS ARTS TOKYO (TAT)" art project, which started in 2012, as an opportunity, he gravitated towards painting and started to participate in events such as "Odate- Kita Akita Art Festival 2014" and so on. Was a member of the Sapporo International Art Festival 2017 in charge of the design project. 3331 Design Director. Teaches "Painting, beauty, drawing and art" and "Life painting" at Bigakko. Professor at Tama Art University.
Artist statement
Aren't books and art born from the same source? In the beginning, letters and pictures were mixed. Even today, before a book becomes a book and before art becomes art something without a name is ready to spring out. It is so even if you choose a different route to express it. So what would you see if you dove to the deepest part?
I have been working in around a field called editorial design mainly, but from a certain period, I suddenly became physically attracted to drawing. As I had believed that the "drawing" ability within me had been absorbed by design, I was hesitant for a while, but now I can no longer refrain from drawing.
A major change occurred between 2010 and 2011 before the earthquake, when my body started to react to the hint of a certain place I had never paid much attention to before. Since then, I have let myself be guided by such hints and signs, and have been drawing paintings that "don't aim to be completed" since 2014. Currently, I am putting myself "in a pure state of drawing".
The hints are from outside, not something I have chosen as a topic. Topics are inventions of thought. Drawing is an act that exists before thinking and as long as it continues, I am just going to let it take me wherever it wants. I cannot express this any better because my identity as a writer and my identity as a painter are different.
The charcoal drawing on the second floor is made up of a series of 176 plates, including parts that I could not bring this time. It is like a picture scroll or like a series of books that will continue to be published. It starts with designing the paper, creating the mural, and becomes a continuous existence like a book, in repeating cycles.
I started to draw the picture on the third floor after starting to come to Ota city. Even if you feel for a moment that you can recognize some of the signs I blended into the picture, this will never be complete. There are things I cannot express even if I tried and things I can chase and chase and never catch up with. As far as it may go, it will never be completed. As such, it keeps on moving ahead. (Naoki Sato) 
Exhibit composition
1. Videos + Paintings (Exhibition Room 1)
This exhibition is not a Naoki Sato retrospective so it is not an exhaustive display of his works. Sato shifted his center of gravity from design to painting around 2010. What was the reason for that shift? And what did that change bring to Sato as he is now? In other words, what happened (happening) to Naoki Sato? The works in this exhibition are organized in a way that allows you to examine this unusual change in an artist.
First, in Exhibition Room 1, the introduction to the entire exhibition, we have displayed Sato's editorial design (1989-2014) and have prepared video images showing him painting the charcoal mural "What grows over there- Continued" (2014-2019). The images will be displayed on two monitors showing how a single artist produces design and painting. Further inside the room, you will see the paintings Sato created before and after he intensely started working on his current monochrome charcoal mural "What grows over there." (2013-2019) that focuses on plants.
Sato compares the creation of paintings that "do not aim for completion" with the continuity in the pages of a book. Notice the "cycles" within Naoki Sato, when using different means of expression such as paper (design) or murals (painting).
| | |
| --- | --- |
| | |
| Sato Naoki "The beginning of What grows out there" 2013 (Scenes from "TRANS ARTS TOKYO 2013" event, Tokyo Denki University old school building, 2013) 364 × 955.5 cm. Artist's collection | Naoki Sato "Plant Statue" 2017 ("Sato Naoki solo exhibition "Unexplored Tokyo, growing out there" venue images, 3331 Arts Chiyoda, 2017″), 243x 122 cm (1 work). Artist's collection. [As part of this exhibition, we plan to exhibit five new works from this series produced in 2019.] |
2. Editorial Design (Slope) 
A total of about 240 design works including the iconic WIRED Japanese edition (1995-1997) for which Naoki Sato handled art direction using DTP, and other book and magazine designs preceding and following this period. These will be displayed on the walls of the Slope between the first floor and the second-floor exhibition rooms.
Although Sato handled art direction and design for many magazines and books, for this event, we only selected those works that Sato himself considered particularly relevant. In this way, we aim to bring to light the things in which the artists showed interest and the actions he took at a time when not only magazines and books but society as a whole was experiencing great changes, from the 1990s to the 2010s.
A strong interest in society is what pushed Sato from editorial design to drawing charcoal murals.

Editorial design (1989-2014) display. On the Slope walls (approximately 20 meters) between the first floor and the second floor exhibition rooms, about 240 magazine and book designs, as well as other works, will be displayed. As these are only a small part of his work, we will also display video images of the designs as they fit on each page.
3. Paintings (Exhibition Rooms 2 and 3)
The first charcoal mural Naoki Sato created for TRANS ARTS TOKYO 2013 (TAT2013) "The beginning of What grows out there" (2013) [Shown in Exhibition Room 1] After TAT2013, the work continued as "What grows out there- Continued". In April 2017, this work, which was first revealed in its full scale at the solo exhibition "Unexplored Tokyo, growing out there" held at 3331 Arts Chiyoda, had already reached nearly 100 meters in length, drawing much attention. The reason for this attention was not the fact that art director and designer Sato created a painting as a transformation, but the overwhelming scale of the monochrome painting depicting plants and appearing to never end.
In this exhibition, you can see the new parts of this work that were drawn after the solo exhibition to now reach 160 meters in length, displayed in the exhibition rooms on the second and third floor. These latest works displayed continuously across the floors also include pieces that Sato produced when traveling to Ota City, Gunma Prefecture. Will this painting that "does not aim for completion" continue to be drawn by Sato? Take a tour of each floor and see the magnificent world of this work.
Naoki SATO "What grows out there- Continued" (2014-2019) (Sato Naoki solo exhibition 'Unexplored Tokyo, growing out there' venue images, 3331 Arts Chiyoda, 2017) 182.5× 16104 cm. Artist's collection (In parts/this exhibition, each picture of the continued works created after 2017 will be displayed.)