Craftsmanship Series
"Love in a button – Iris company's button making"
From Nov. 10, 2018 (Sat) to Jan. 14, 2019 (Mon, holiday)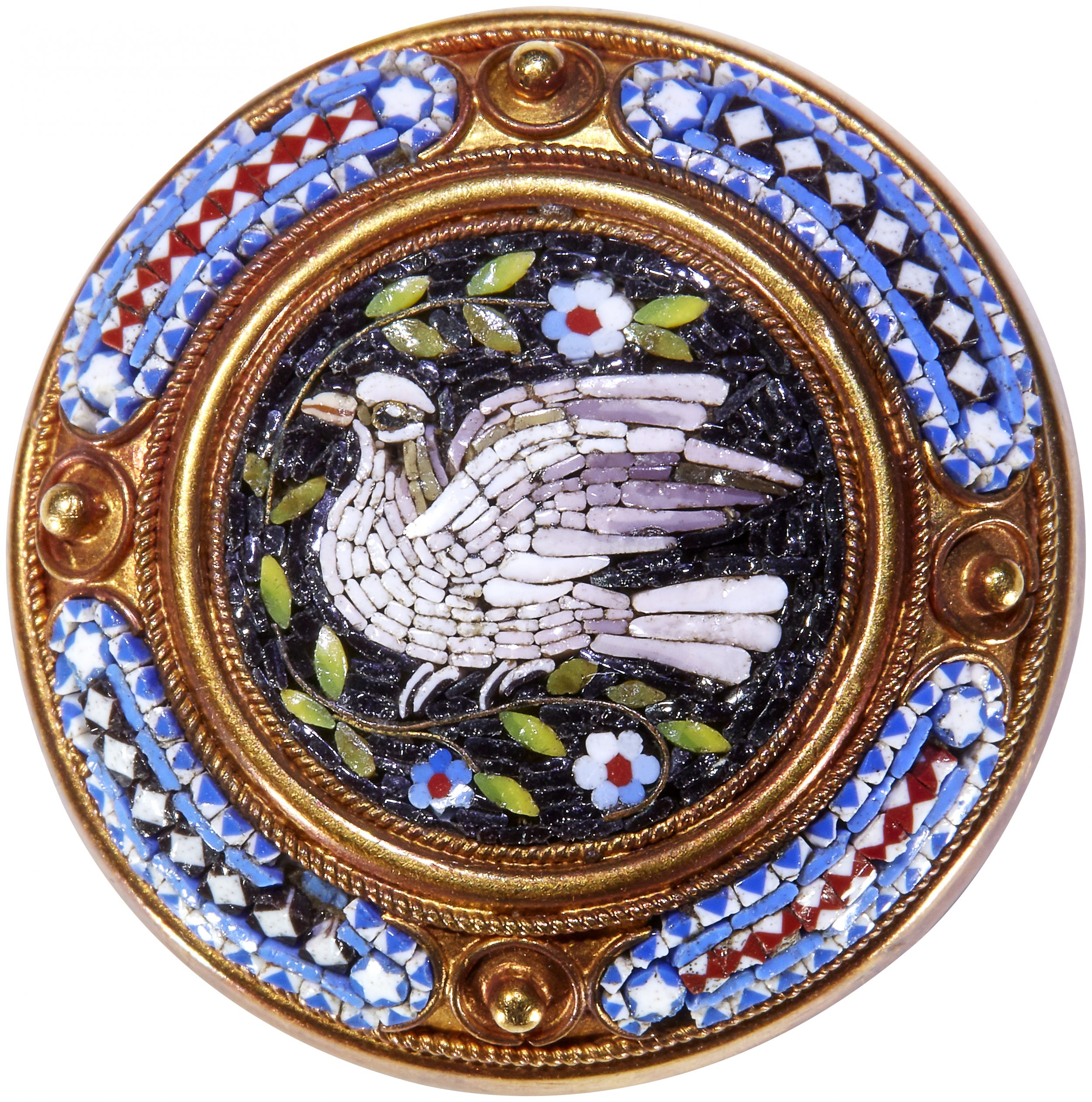 Sophisticated micro mosaic 18th century Italy 18k gold base and colored glass
Information
Event name: Craftsmanship Series, "Love in a button – Iris company's button making"
Venue: Art Museum and Library, Ota, Exhibition Rooms 1 and 2
Period: November 10, 2018 (Sat) to January 14, 2019 (Mon, holiday)
* Closed: Mondays (Open on December 24 and January 14 national holidays, and closed the following Tuesdays). Closed for the year-end and New Year holidays (December 29 to January 3).
Open: 10:00 am to 6:00 pm (last entry to exhibition rooms before 5:30 pm)
Admission fees: Free.
Organized by: Ota City, Ota City Culture and Sports Promotion Foundation
In partnership with: Iris Co., Ltd., AI Lab Ota, Tobu Railway Co., Ltd.
Supported by: The Asahi Shimbun Foundation, Asahi Group Arts Foundation
Sponsored by: Ota City Board of Education, Ota Chamber of Commerce and Industry, Gunma TV, FM Gunma, FM Taro, Jomo News, Asahi News Maebashi, Sankei News Maebashi, Tokyo News Maebashi, Mainichi News Maebashi, Yomiuri News Maebashi, Hikari Net Co., Ltd.
Featured artists: Akiko Itoyama, Atsushi Yoshie
Guest curator: Taizo Kaneko (Iris Button Museum)
Space creation: Akihisa Hirata (Akihisa Hirata Architecture Office)
Visual design: Atsushi Hirano (AFFORDANCE)
General production: Spiral/ Wacoal Art Center Co., Ltd.
Overview
Art Museum and Library, Ota will hold the first event in the "Craftsmanship Series", a series that aims to explore Ota's long manufacturing tradition. The event is called "Love in a Button – Iris Company's Button Making".
The basic theme of the Ota museum and library complex is the "Creative people of Ota". The facility stated its intention to use the creativity of Ota residents cultivated through craftsmanship for town development, and thus operates art projects and book projects that are true to this vision.
The soon to be launched "Craftsmanship Series" will uncover the creativity that lies at the heart of craftsmanship in collaboration with manufacturing-related companies in Ota City.
Our first partner is Iris, a company which boasts the largest button making market share in Japan.
The event will include a special exhibition of a rare collection of buttons in the world owned by the Iris Button Museum, and the inspiring story of button making told by Akutagawa Prize winning writer from Gunma Prefecture, Akiko Itoyama, and local photographer, Atsushi Yoshie after visiting button factories from Ota city through text and images.
We hope that this exhibition offers many people the chance to embark on the epic adventure of the craftsmanship found in a small button.
Exhibit composition
Exhibition Room 1: Iris Collection
In cooperation with the Button Museum operated by Iris Co., Ltd. in Hamacho, Tokyo, our museum will display about 800 buttons of great historical and cultural value. The selection of buttons to be displayed, explanations and so on will be done by Button Museum curator Taizo Kaneko, while Akihisa Hirata, Ota Art Museum designer will be in charge of space creation. Rediscover the value of buttons as artworks through this enchanting collection.
| | |
| --- | --- |
| | |
| Picture buttons used for nobles' coats 18th century France Miniature drawings on thin ivory | Victorian masterpiece Gay 90's button 19th century England Glass set in metal |
Exhibition Room 2: Essays & Photos "A Button Factory Tour"
After visiting button factories in Ota City, Akutagawa Prize winner author, Akiko Itoyama from Gunma Prefecture and local Ota photographer, Atsushi Yoshie collaborate through text and images to convey the allure of button crafting.
Artist Profiles
Akiko Itoyama, novelist
Born in Tokyo in 1966. After graduating from Waseda University's School of Political Science and Economy, started to work for a housing appliance and equipment manufacturer where she occupied sales positions until 2001 in Fukuoka, Nagoya, Takasaki, and Omiya. In 2003 "It's Only Talk" won the Bungakukai New Face Award, then in 2004 "The man at the end of the alley" won the Kawabata Award, in 2005 "The sea hermit" won the Minister of Education, Culture, Sports, Science and Technology's Art Encouragement Prize for New Artists, in 2006 "I'll wait off the coast" won the Akutagawa Prize and in 2016 "Heartless" won the Tanizaki Prize. Other works include "Runaway idiot", "Stupid", "Sequel to an odd book", "Takeoff", "Walk in Akiko Itoyama's shoes", "Komatsu Tosa-chan", and more. Has lived in Takasaki City since 2005.

Atsushi Yoshie, photographer
Born in 1973 in Ota, Gunma Prefecture. After graduating from Chuo University's Faculty of Letters in 1997, joined an architectural picture studio. Worked for about a year at a farm in Shihoro, Hokkaido from 1999, then returned to Tokyo in 2000 and started working as a freelance. Returned to Ota in 2002 and started to shoot for advertisements, weddings, etc., while creating original works on the theme of rural cities. Recent solo exhibitions include "Rural Cities" held at Gallery 722 (Okayama) in 2015; "Village businesses" at the Sokyusha Gallery (Tokyo) in 2015; "River Worlds" at the Umeda Tsutaya Bookstore (Osaka) in 2017. Main photo collections include "Rural Cities" (Sokyusha) in 2014, "River worlds" (salvage press) in 2016 and "Exit towns" vol. 1 (salvage press) in 2018.
Guest curator
Taizo Kaneko, curator at Button Museum
Born in 1954 in former Urawa City, Saitama Prefecture, as the son of a retailer selling buttons and handicraft materials. After graduating from Dokkyo University Department of Law, joined a button maker Iris, the operator of the Button Museum, and was assigned to the Apparel Direct Sales Department. Six years later, returns to his family-owned business managing the retail store with his brother. Rejoins Iris in 1995 and begins to manage the museum from 1999. Obtains a curator license, after having edited a pictorial record of the Button Museum in 2002. Has been invited to talk about the history and appeal of antique buttons at many button and hobby related events and button-related talk shows for department stores.
Space creation

                 (c)Luca Gabino
Akihisa Hirata, architect
Born in Osaka in 1971. Completed courses at Kyoto University's Graduate School of Engineering and Faculty of Engineering in 1997. Worked at Toyo Ito & Associates, Architects, and then established Akihisa Hirata Architecture Office in 2005. Currently, works as a professor at Kyoto University.
Major works include "Masuya HQ" (2006), "sarugaku" (2008), "Bloomberg Pavilion" (2011), "Art Museum & Library, Ota" and "Tree-ness House" (2017). Has won numerous awards including the 19th JIA Rookie Award (2008), Togo Murano Prize (2018), and BCS Prize (2018). Author of "Discovering New" (TOTO Publishing), etc.
Visual design
Atsushi Hirano, graphic designer
Born in Kanagawa in 1978. In 2003, graduated from Tama Art University's Faculty of Art and Design, the Department of Graphic Design. Worked at MAQ Inc. and Draft Inc. and later established Design Studio AFFORDANCE. Mainly does graphic design such as corporate branding, CI, VI, product design, editorial design, and logo design. For the Art Museum & Library, Ota opening (design: Akihisa Hirata, 2017), was in charge of the logo mark and signage planning. Part-time lecturer at Tama Art University. Received the TDC Prize, JAGDA Rookie Award, SDA Award, The Minister of Economy, Trade and Industry Award and more.