Ota Art vol.1 "90 years since Jo Shoda's birth. Art is the culmination of play."
Feb. 2, 2018 (Fri) - Apr. 8, 2018 (Sun)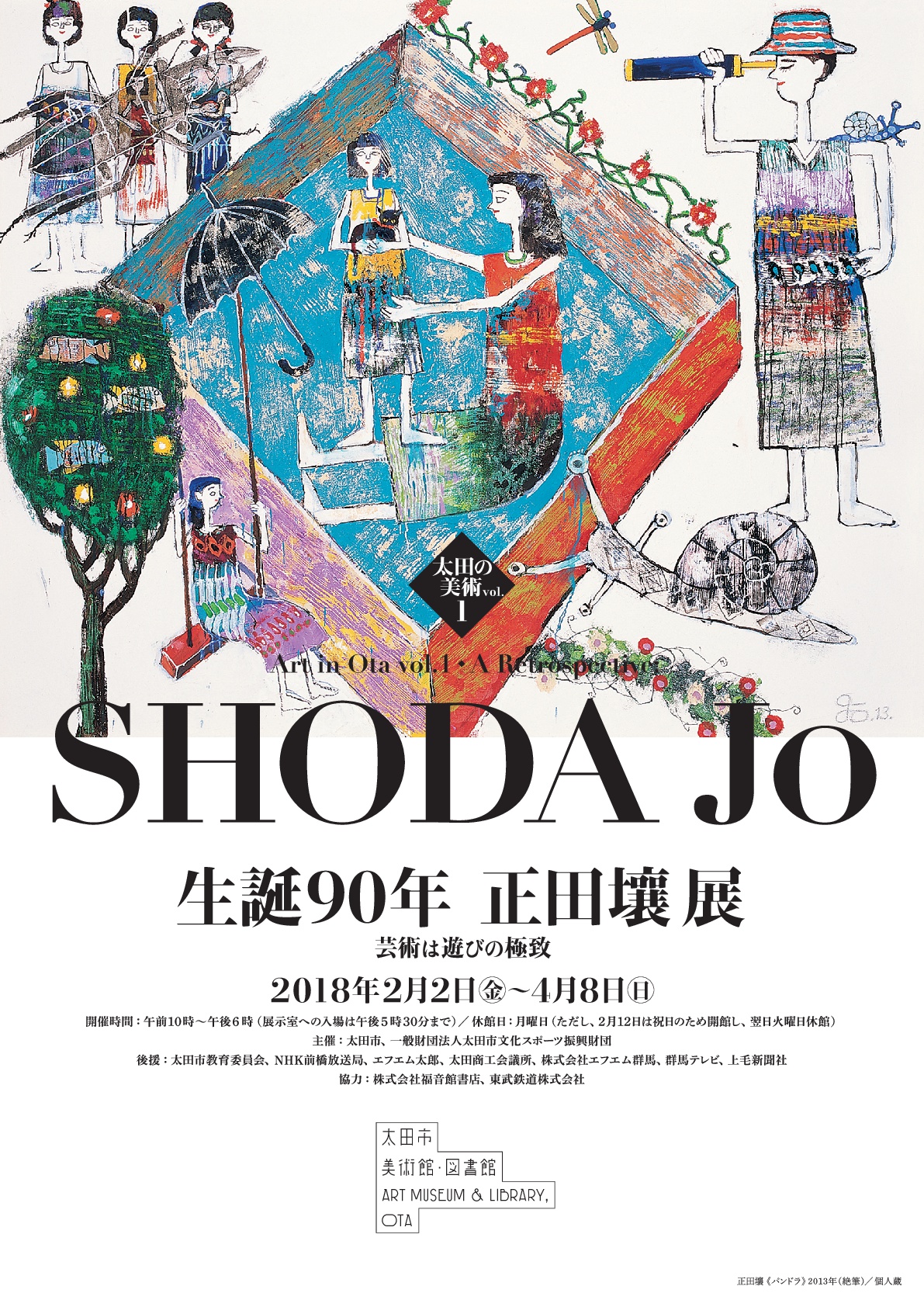 Event information
Title: Ota Art vol.1 "90 years since Jo Shoda's birth. Art is the culmination of play."
Period: Feb. 2, 2018 (Fri) – Apr. 8, 2018 (Sun)/ 57 days
Venue: Ota City Art Museum & Library, Exhibition Rooms 1, 2, 3, and Slope
Opening hours: 10:00 am to 6:00 pm (Last admission is at 5:30 pm.)
Closed: Mondays (Open when Mondays are public holidays, with the venue closing the following day.)
Admission fees: General 300 (200) yen
Fees shown in

( )

are for groups of over 20 people, as well as Ota City Art Museum & Library card owners and Furatto Ryomo Tobu Free Pass holders.

Free access for people over 65, under 18, and holders of physical disability certificate, mental disability insurance certificate, rehabilitation certificate and one assistant.
Free for families accompanying children under 15 on Ota Family Day (first Sunday of each month).
Organized by: Ota City, Ota City Foundation for Culture and Sports Promotion
Sponsored by: Ota City Board of Education, Ota Chamber of Commerce and Industry, Gunma TV, FM Gunma, FM Taro, NHK Maebashi Station, Jomo News
In collaboration with: Fukuinkan, Tobu Railways
Overview
Born in Ota, painter Jo Shoda (1928-2016) depicted people, insects, animals, and so on in a unique form and matière, creating a world full of wonder and stories. 2018 marks 90 years since birth of Shoda, and to commemorate this event, Ota City Art Museum & Library will hold a retrospective exhibition of his life, including about 50 of his earlier through later works.
This exhibition will feature several of his masterpieces, along with early works of experimentation before establishing a style, and sketches resulted from his daily study. 17 original drawings for the picture book "A red-faced girl is peeping out the window" (edited by Hikaru Konomi, and published by Fukuinkan, 1973) will also be exhibited. Works by Jiro Shoda, Tentaro Fukuda, Tadayoshi Matsumoto, and Kaoru Yamaguchi will be shown at the same exhibition. Please come and enjoy the works Shoda himself described as having "no nationality and no gender", works full of energy that Shoda created "expecting the people who look at them to weave their own stories."
Artist information
Jo Shoda




Jo Shoda Portrait, 1993, Photographed by: Tomonori Fujishige

Oil painter born on March 7, 1928 in Ooaza-Hanakazuka, Watauchi village, Nitta-gun, Gunma (currently, Nitta Hanakazuka-cho, Ota City, Gunma). In 1945, after graduating from Ota Junior High School (current Gunma Prefectural Ota High School) takes the entrance exam to Tokyo Art School but fails, and continues to paint while working as a substitute teacher. During that period, he learns from local painters such as Jiro Shoda (his uncle), Tentaro Fukuda, Tadayoshi Matsumoto, and Kaoru Yamaguchi.
In 1952, his work is selected for the first time for the 2nd Modern Art Exhibition. He then continues to produce and present mainly at the Modern Art Exhibition. In 1962, at the 12th Modern Art Exhibition, he is nominated as a member. In 1964, the works displayed at the 6th Gunma Modern Art Exhibition depicting people, insects, animals, etc. in a unique form and matiere show a change in style, but the painter will continue to explore his style all throughout his life, for about 50 years. In 1967, he receives the first Strarem Excellence Award at the 4th International Youth Artists Exhibition. In 1993, he is appointed the chairman of the Gunma Prefectural Art Association. In 1995, he receives the Gunma Prefecture Art and Culture distinguished service medal. In 1997, he is awarded the Local Person of Cultural Merit distinction by the Minister of Education. In 1999, he receives the Fifth Order of the Sacred Treasure and in 2005, the Ota Citizen Culture Award. In 2011, "Jo Shoda Exhibition- Praise to the Gentle" is held at Takasaki City Art Museum. He passes away on December 4, 2016, aged 88.
Jo Shoda atelier, 2017, photographed by Atsushi Yoshie
Exhibition composition and highlights
1. The world of free stories (Exhibition Room 1)
This part of the exhibition focuses on masterpieces created from the mid-60s, when Shoda established the style, to his last works in 2013. Come and enjoy Shoda's world of free stories.
| | |
| --- | --- |
| Jo Shoda "Insect (Danae)" 1965, Gunma Prefectural Museum of Modern Art collection | Jo Shoda "Child of the wind" 1982, Ota Municipal Nitta Library collection |
2. Picture book original drawings for "A red-faced girl is peeping out the window" (Slope)
A picture book based on riddles from different countries edited by Hikaru Konomi with drawings by Jo Shoda. 17 original pictures for "A red-faced girl is peeping out the window" (published by Fukuinkan, December 1973) are displayed together with riddles from around the world.
Hikaru Konomi (1928-2012) is a children's literary writer, picture book author, quiz writer, and cartoonist born in Tokyo. Worked under the penname Konomi Hikaru written in Kanji, then changed it to the Hiragana alphabet. Known for his works with riddles and quizzes, he is best known for the "Pyokotan" series. Konomi gathered riddles from various parts of the world for this book and Shoda drew the pictures.

Edited by: Hikaru Konomi, Picture book with drawings based on riddles from around the world by Jo Shoda, "A red-faced girl is peeping out the window" (Fukuinkan, December 1973)
3. Jo Shoda Profiles (Exhibition Room 2)
Understand the hidden side of Jo Shoda, his different profiles, by observing his early oil paintings and drawings from before he found his style, various materials, and works by local painters Jiro Shoda, Tentaro Fukuda, Tadayoshi Matsumoto, and Kaoru Yamaguchi Kaoru with whom Shoda studied painting.

Jo Shoda "Cross 63-2" 1963, Akiyoshi Nitta collection
4. Jo Shoda and Ota (Exhibition Room 3)
Jo Shoda's works are kept in collections and exhibitions all around Ota City, including the curtains at Ota City Nitta Cultural Center and are widely popular. This section of the exhibition shows the relationship between Shoda and Ota City.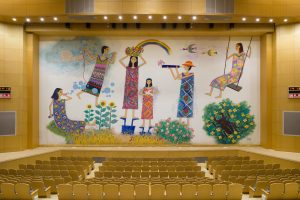 Ota City Nitta Cultural Center, Gymnasium Airys Hall and Airys Arena Curtain. Photographed by: Jun Yoshie 
Original painting by: Jo Shoda "Rainbow" 1996