Ota Photo Sketch vol.2 [Hands x Feet x City]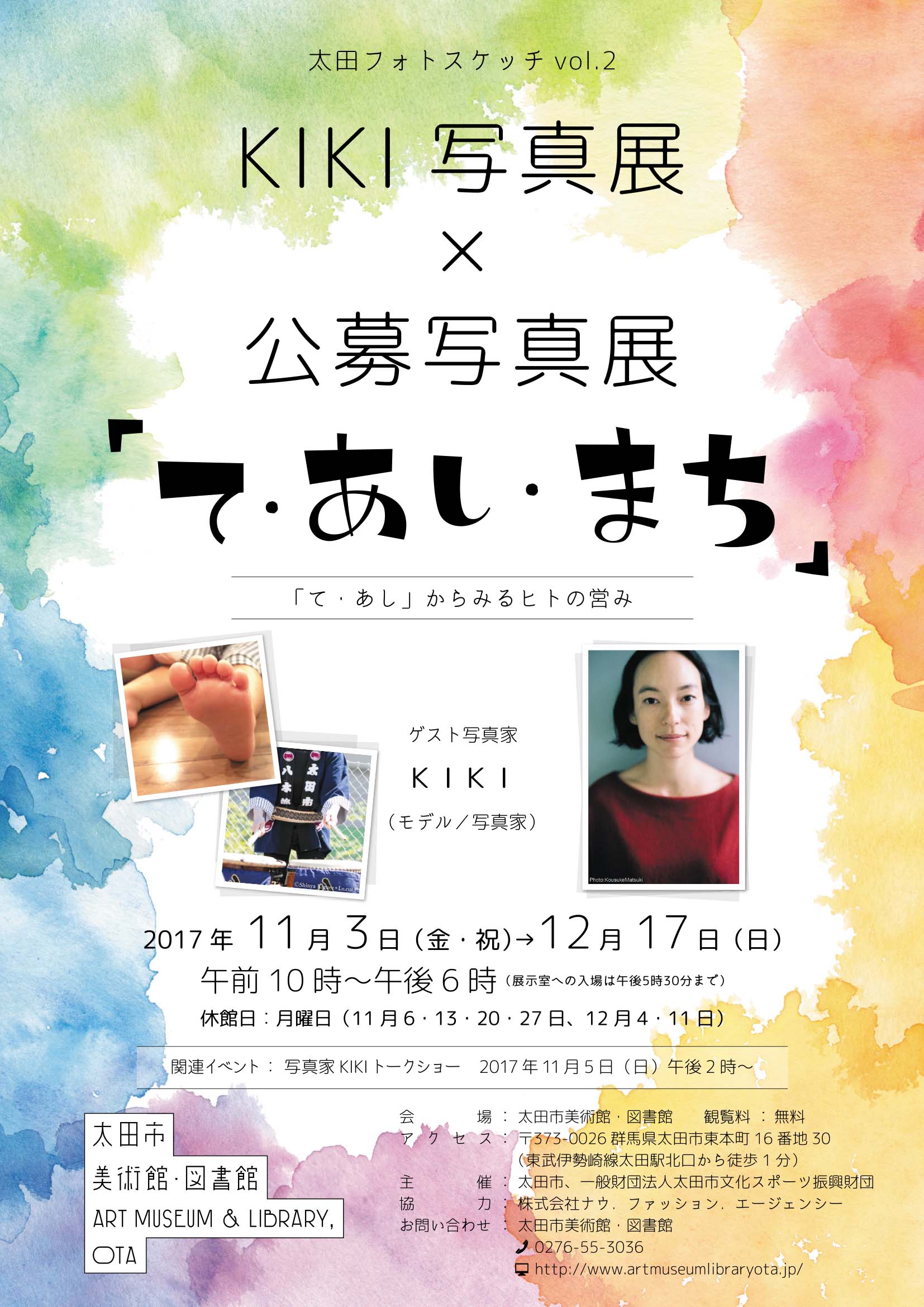 Information
Event name        : Ota Photo Sketch vol.2 [Hands x Feet x City]
Venue    : Ota City Art Museum and Library, Creation Road & Exhibition Room 2
Dates     : From Nov. 3 (Friday, holiday) to Dec. 17 (Sunday), 2017
Closed   : Mondays
Entrance fees      : Free of charge
Organized by      : Ota City, Ota City Culture and Sports Promotion Foundation
Sponsored by      : Now Fashion Agency Inc
Overview
Ota Photo Sketch is a photo exhibition on the theme of "Rediscovering Ota City through the camera lens from new perspectives." Photographs received from applicants between August 18 and September 29, together with works by guest artists, are exhibited at Ota City Art Museum and Library.
The theme of the exhibition of works by the general public is "Hands and Feet." Photographs feature hands and feet having fun, in favorite places, doing normal activities, engaged in work they are proud of, with people that are dear…. Together, these photos create a vivid image of Ota City. To find the many stories that are unfolding right now in our city, we are exhibiting the photos of life in Ota that Ota residents themselves have sent us.
In our guest artist KIKI's exhibition, find images shot in Ota last year and with new works created for this event.
Guest Artist Information
KIKI
Born in Tokyo. Graduated from Musashino Art University's Graduate School of Art and Design, Department of Architecture. Featured in magazines, advertisements, TV shows, movies, and more.
She also writes essays, etc. and published many books on the themes of traveling and mountain hiking including photo essay "Traveling beautiful mountains" (from Heibonsha Publishing).
She is in charge of photos and essays published in Leica Style Magazine, the German camera brand official magazine, and has recently released her own photo exhibition, the "PRISMA" Series. She also participates in arts festivals as an artist and judge and is remarkable in many fields.
She appears regularly on the Nippon TV show "My slow time ~ my weekend house ~".
[Reference works] (May be different from the works featured in this exhibition.)